Discover more from Artemis Big Fundamentals in Crypto
We provide weekly analysis on the state of L1s and crypto fundamentals. Written by former institutional investors.
Over 8,000 subscribers
Artemis.xyz Weekly Ecosystem Wrap-up (11/25/2022)
your go-to source for weekly fundamental updates
note: all analyses in this document created using the Artemis Sheets plug-in ✌
happy turkey day to those that celebrate! we are grateful for all the artemists out there reading our weekly newsletter 🤝🫶
Thanks for reading Big Fundamentals in Crypto! Subscribe for free to receive new posts and support my work.
Overview:
Another eventful week in the market with more news around the DCG / Genesis debacle and potential bankruptcy on the books. For the normies, Genesis is a large crypto lender that has been caught up in the FTX fallout and subsequent market downturn. Genesis is owned by DCG, a crypto holding company last valued at $10bn in a private financing round led by Softbank (lolcats). At this time the DCG situation has not yet been revolved, with new revelations coming to light that there were intercompany loans made between DCG and Genesis.
Genesis has also hired investment bank Moelis to explore "strategic alternatives" including bankruptcy 👀.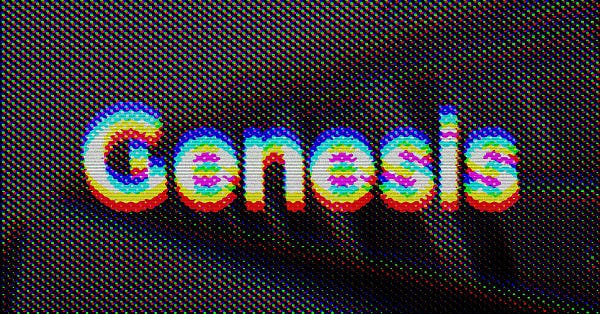 ift.tt
Genesis Global Capital Has Hired Investment Bank Moelis to Explore Options Including Bankruptcy: New York Times - Zhot Crypto
"In recent days, there has been chatter about intercompany loans between Genesis Global Capital and DCG," Silbert wrote. "For those unaware, in the ordinary course of business, DCG has borrowed money from Genesis Global Capital in the same vein as hundreds of crypto investment firms. These loans wer…
Meanwhile, CZ and the Binance crew continues to chug along post FTX and is now setting up a $2bn "crypto recovery fund" to help industry participants struggling with the sudden blow-up of multiple crypto institutions. Binance initially targeted $1bn for the fund which was roughly divided into BTC, BUSD (Binance native USD-stablecoin) and BNB (Binance native token), and subsequently added another $1bn BUSD to reach a current total of $2bn of capital. We shall see where and how Binance will allocate the funds, as there are rumors that many projects held substantial treasury balances on FTX prior to its collapse.
BNB has seen positive price action on the news, with BNB up 7% over the past 7D period while the median of peers declined ~1% over the same period. BNB is now a whopping ~34% of ETH market cap, which is far larger than any peer (2nd closest is our newsletters' favorite coin CARDANO 🎉at ~8% of ETH market cap).
BNB as a % of ETH market cap has been slowly creeping over the past few weeks since we started this weekly newsletter. BNB % of ETH market cap was ~29% as of 11/05/22, and has climbed to ~34% as of this week. CZ comin for the👑
other ecosystem deep dives 👇
Solana
The SOL ecosystem continues to bleed with continued week-over-week TVL outflow. Solana now has ~$280mm TVL remaining on its platform, which is down ~81% vs. 3 months prior (August 25, 2022 TVL of $1.5bn 😵‍💫). The top defi protocols have seen huge outflows in the past month, with Marinade Lido and Raydium seeing ~60%+ drawdowns.
Devs also continue to flee (and/or hide) as weekly CoreEco commits are down 71% vs. 3M prior and 30% vs. 7D prior.
L2 Ecosystem (OP, MATIC)
What's been fascinating to see on our L1 dashboard is that TVL has heavily accrued to the layer 2 ecosystem in meaningfully large figures that are comparable (and oftentimes greater) than Alt L1s including Solana and NEAR. For example, Optimism and Polygon boast TVL figures of $0.5bn and $1.0bn, respectively while Arbitrum serves as the home of blue-chip perp protocols including GMX.
Side note for the homies - we are working to implement Arbitrum data into our weekly analysis before the team formally launches a token and will hopefully have that included for folks soon 🙃
The L2 ecosystem TVL figures are beginning to dwarf Alt L1s such as Solana ($280mm TVL) and NEAR (~$86mm TVL) while the up and coming chains such as Aptos taken miniscule levels of market share (~$38mm TVL).
One thing we do notice is that Optimism is the chain with the lowest "Circulating Supply as a % of Max Supply" with 5% of maximum tokens circulating. This makes OP's MC / TVL of 0.4x look quite attractive vs. its peers, but we do think its important to also take into consideration its FDMC / TVL of 7.3x. With that said, even on a FDMC basis OP still boasts a relatively attractive multiple vs. its Alt 1 peers (SOL at 18.1x MC / TVL, NEAR at 18.9x FDMC / TVL) while seeing substantial daily transaction and daily active address growth (up 97% and 75% over the past 30 days, respectively).
Is there a case to be made that the roll-up centric vision of Ethereum is coming into sharper focus? Maybe there's something to be said regarding ease of access / ease of bridging from Ethereum mainnet. The growth in L2 applications and use cases is something the team will continue to monitor and hopefully provide more detail on in the coming weeks ~~~
Wrap.
And that's it for Thanksgiving week! We at Artemis continue marching on our mission to provide cool, best in class data for all participants in the crypto ecosystem. until next time artemists
Note: Revenue represents fees that go to the protocol's treasury or are returned to tokenholders via a burn mechanism (source: Token Terminal). Weekly commits and weekly dev activity as of 11/13/22.
Detailed L1 dashboard for people who love more numbers in smaller font:
Thanks for reading Big Fundamentals in Crypto! Subscribe for free to receive new posts and support my work.